Military Service Specials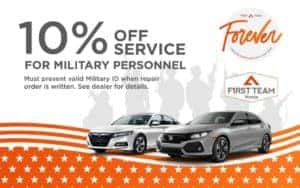 We Put Our Military Customers First With 10% Off Service
At FIRST TEAM HONDA, we sincerely appreciate the men and women who serve in the military. We
understand their sacrifices to protect our country and ensure our freedom. That's why we are proud to prioritize
our military customers and show our gratitude by offering them a special discount: 10% off all services.
Our commitment to putting our military customers first stems from a genuine desire to support them and make their
lives easier. We recognize the unique challenges that military personnel and their families face, including
frequent relocations, long deployments, and the strains of military life. We aim to alleviate some of the financial
burdens of vehicle maintenance and repairs by offering this discount.
When military customers choose us for their automotive needs, they can expect exceptional service from a
genuinely caring team. Our experienced technicians are dedicated to providing high-quality quality and ensuring every
vehicle leaves our facility in top condition. Whether it's routine maintenance, repairs, or other services, we go above
and beyond to meet and exceed our military customers' expectations.
Redeeming the 10% discount is simple. Military customers only need to present their military identification at
the time of service, and the discount will be applied to their bill. We have made the process hassle-free because we
understand that military members have enough on their plates. This discount applies to all our services,
including oil changes, tire rotations, brake inspections, etc.
Beyond the financial benefits, we strive to create a supportive community for our military customers. We want
them to feel valued and appreciated, so we try accommodating their unique needs. Our flexible scheduling options allow
military personnel to easily fit vehicle maintenance into their busy lives, whether they are stationed locally or temporarily deployed.
In addition to our commitment to individual military customers, we actively seek partnerships with veteran
support organizations and participate in military appreciation events. We believe in giving back to the military
community that has given us so much. It is an honor for us to serve those who serve our country.
In conclusion, at FIRST TEAM HONDA, we are dedicated to putting our military customers first.
Our 10% discount on services is a small gesture of appreciation for their service and sacrifice. We aim to make
vehicle maintenance and repairs more affordable and convenient for military personnel and their families. It is our way
of saying "thank you" to those who selflessly protect our nation.